Urban Solutions
Public spaces are well-positioned canvases for strategic messaging that fosters community dialogue, neighborhood identity, beautification, way-finding, safety and graffiti abatement, while increasing investor confidence and attracting clientele into a developing district.
____________________________________
// Pop-up / Interactive Experiences
// Painted Signage / Way-finding
____________________________________
"At the end of the day, developers want to know 'What can we do to make our development attractive and profitable?' If you set aside arts space in your development, it will pay dividends far and beyond. People will want to live there, shop there, eat there."
— Jay Dick, Senior Director of State and Local Government Affairs at Americans for the Arts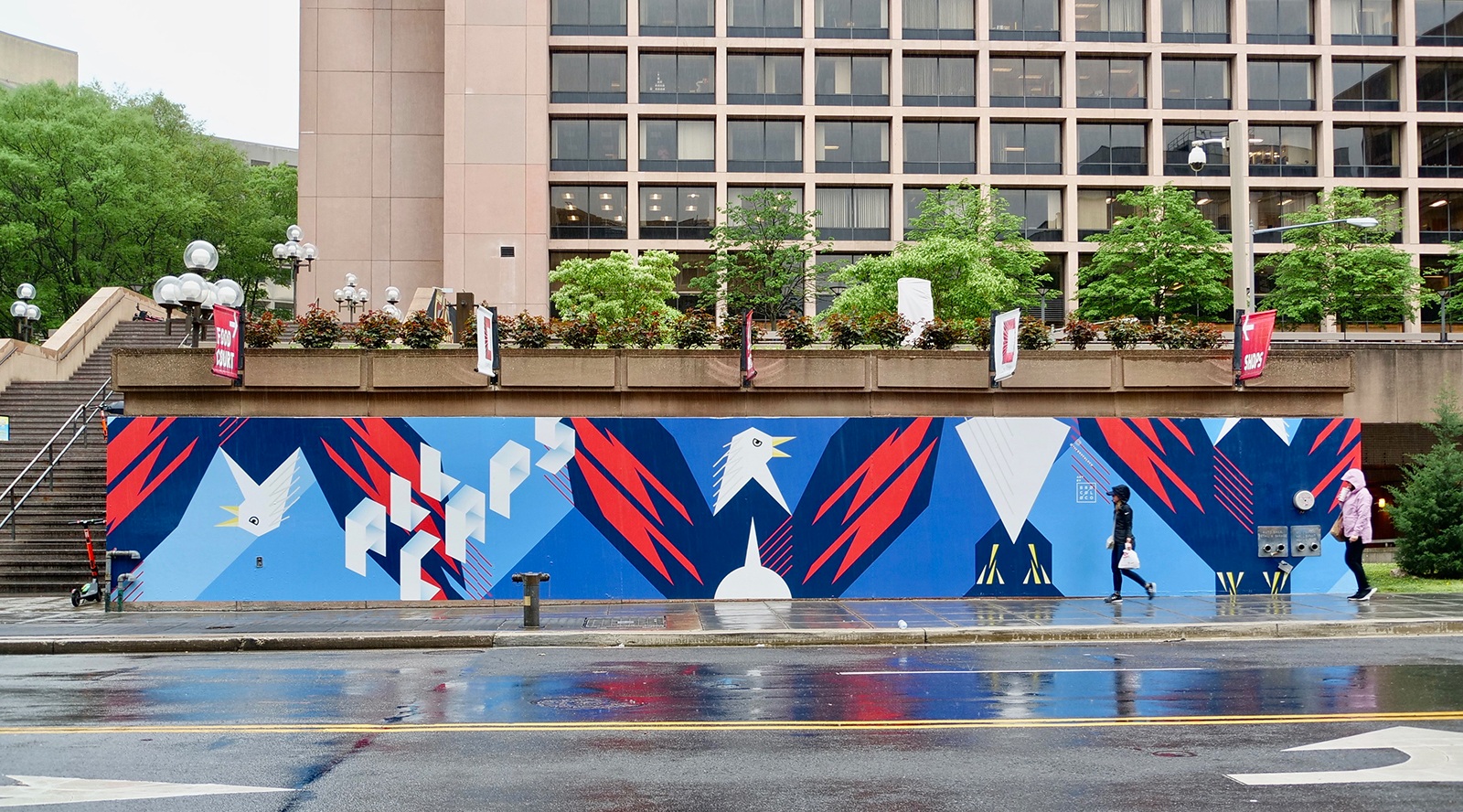 ALL CAPS
We helped get the word out and spirits high for the Washington DC Capitals Stanley Cup bid during the 2019 NHL hockey playoffs.
Pasadena Pigeon
We reenergized a 5-story corporate façade with curated colors and clean lines designed to integrate with the existing architecture.
Inside, a bright, coordinating pathway through the parking garage welcomes tenants and loyal customers into the elevator bay.
On the Radar (Factory)
This office campus activation near LAX airport brought life to a building repurposed for work and play. The mural nodded to aircraft built in the original factory while carrying it into the present day with street-art style spanning interior and exterior walls.
Bird Cube
This way-finding intervention transformed a nondescript parking garage stair into an inviting entrance using a cheerful bird pattern that wrapped all four sides and coordinated with the surrounding mixed-use spaces.
Origami Tsunami
This cascade of shadowed origami birds was in the backyard of our very first and beloved studio in Lexington, KY. Today the birds flock around a bicycle shop/beirgarten on the same block.
&pizza x BroCoLoco
This delicious black, white and teal design flows from walls to floor, around corners, over doors and even coordinates with a matching piece of furniture to be fitted in the corner for a paint-dipped look.
Bloom Where You're Planted
We designed this mural to greet commuters and residents coming and going from the DC Metro red line. The phrase blends with the apartment building architecture while inviting the community to enjoy where they are no matter what their season.
Park Potomac
We wanted to say a big "hello" to residents, retail and restaurant-goers coming to the new Park Potomac, Maryland development. We picked a palette that could wear well in every season and patina with age.
Lid Off Lexington
Using a dreamy watercolor style to evoke childhood memories of catching fireflies in the summertime, this design spoke to "taking the lid off the jar" to activate hopes, dreams and a rich cultural heritage.
Color Inside // Outside the Lines
We introduced Washington DC festival goers to the newest apartment building on the block with a twist on the Adult Coloring Book craze: life-sized live mural coloring.
Blend In // Stand Out
This chillin' chameleon painted for POW! WOW! DC 2018 shows his stripes to bikers and joggers along this Metro retainer wall on DC's Metropolitan Branch Trail. It deters graffiti, but there's more: Unavoidable summer undergrowth becomes an intentional part of the landscape architecture, creating a jungle disguise.
Chinatown Dragon
This dragon was designed to draw commuters and concert goers to the newly opening CIRCA bistro and to correspond with the Friendship Arch at the entrance to DC's historic Chinatown.
Go to Grow
Poster-style text and larger-than-life bulb flowers make this concrete wall pop with durable, crisp colors as the mural peeks out from all angles of the stair and walkway outside of an office building. The year-around landscaping is just a bonus.
Come As You Are
We created a bold design for new business CAYA Club, (acronym "Come As You Are") on the Brixton design trail during London Design Week. The mural created contrast between CAYA's tidy brand and the adjacent Brixton graffiti while melting seamlessly into the roll-up door.
Buffalo Gal
We created this mural for a vintage boutique, picking tones that complimented the vintage brick and vintage brand.
Cathedral Heights Memory Mural
This Cathedral Heights mural in Northwest DC is a collage based on newspaper clipping and images of institutions fondly remembered in the area with the additional of the National Cathedral, which stands within view a few blocks away.